In our last newsletter, we talked about the energy-saving benefits of using a ventilated façade. Today, we'd like to outline just a few of the features of our exterior porcelain cladding panels that can help you explore new options for a unique look for your building projects.
In our project example above, the architect took advantage of our Design Your Porcelain program to create his custom panel color. Whether you choose that route or use one of our wide range of available colors and textures, there are many benefits you'll find "baked" into all of our porcelain panels.
Let's look at a few benefits alongside comments from architects using our panel system for a while now.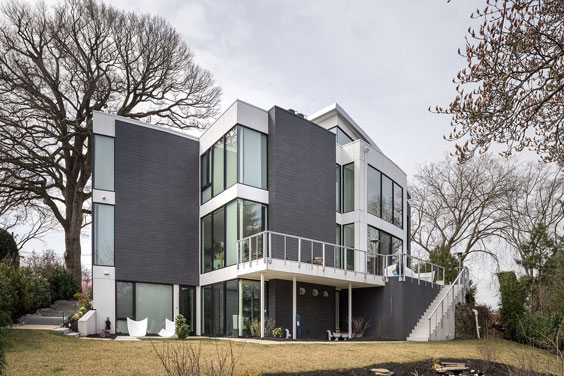 True Aesthetic Versatility
You can achieve a classic, traditional, modern, decorative, or distinctive looks for your exterior facades with porcelain cladding. And you can even design your own porcelain panel. Our porcelain panels are more durable than a natural stone with greater design flexibility. You get superb technical performance with any look you create, from rich textured woods to shiny metallics, to natural stone and concrete finishes. Your design freedom is here.
It's usually an external cladding system mechanically fastened or "Just the myriad of different tile colors and textures to choose from. We're really looking forward to the next opportunity to use more of their different textures and colors on our projects."
Isaac-Daniel Astrachan, AIA, LEED AP, Principal
Stephen B. Jacobs Group, New York, NY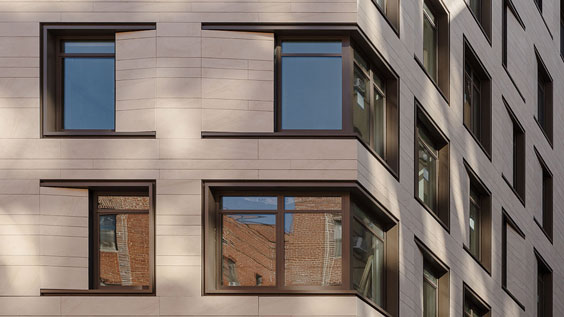 Factory-Rectified
We rectify your porcelain panels at the factory before they leave the production line. "Rectified" means we grind the panel's edges after firing, so the size is more precise. Our rectifying process also means no shrinking or expansion of the porcelain panel after you've installed it on your building's exterior facade.
"The system's flexibility ends up with a clean look that is worthy of a museum. But the material's scale and patterning can still be consistent with a residential project."
Eric Robinson, AIA, LEED-AP, Principal & Co-Founder
RODE Architects, Boston, MA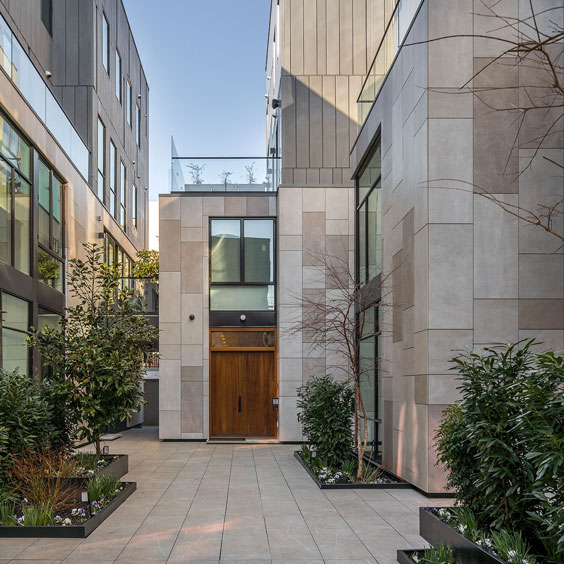 Maintenance-Free
The high density and 0.1% water absorption of our porcelain cladding panels don't allow dirt or graffiti to stick to them. When you install our porcelain panels in an open-joint cladding system, there is no efflorescence, no drips, or stains. So your cladding is maintenance-free.
You don't need any protective coatings. And you don't need any special solvents to clean graffiti. Just use denatured alcohol, and the graffiti easily wipes away.
"The feature I like most about Porcelanosa Facades is the quality of the product. The facade has been installed for six or seven years now, and it still looks outstanding — brand new."
Cosmin Vrajitoru, President
ARCHEO Design Studio, Chicago, IL
As we said, all these advantages (and more) are available to you in all our porcelain panels.
Until next time, keep growing your garden with beautiful building facades…
Thank you,
Your Partners in Design at

1) Sign up for our Virtual Online Lunch & Learn CEU presentation.
Sign up here for our presentation called, "Ventilated Façade System for Buildings."
You'll earn 1 AIA HSW CEU, and you'll learn more about when & how to use a ventilated façade, as well as the advantages you'll get using a ventilated façade over using other cladding systems.
SIGN UP TODAY!
2) Contact us for a free, no-obligation project consultation.
Go here to schedule a no-obligation call. Get to know us and share your vision for your project. If this project isn't a great fit, we'll just let each other know. And part as new BFFs looking forward to the next chance to work together.
SIGN UP Or you can always give us a call at 201-712-0556 (x2218)!
3) See if your project is a good fit for our Design Assist service.
Check out our two-page Design Assist Services description here to help understand a bit more about this awesome way we can work together.
The TL;DR version: If your project meets just two simple requirements, our complimentary Design Assist service will help ensure your façade design's success, while saving your design team time, money, and headaches.
Check it out today!