Location: Manhattan, New York
Architect: Arquitectonica
Building Typologies: New Build; High-Rise; Multi-Family
Year Constructed: 2019
Building Size: 144,000 SF, 22 stories
Porcelain Cladding Used: 18,221 SF
Colors: Custom Light Grey and Dark Grey
Background
Convivium is a residential, high-rise on Manhattan's Upper East Side, with about 140 apartments. Over 45% of those units have outdoor balconies and terraces. At the time of its construction, it was the largest privately developed Passive House in New York. From planning through construction, the architect, Arquitectonica, worked with the contractors and owner to navigate the challenges typical of a New York urban infill project site and the additional Passive House requirements. As a result, this project was successful, thanks, in part, to the façade design assistance from Porcelanosa Facades ("Porcelanosa")
Here's a link to see more images and details about this building project.
You can also see this building featured on Season 1, Episode 2 of the television show New York ByDesign: Architecture. Check it out on their YouTube channel here (fast-forward to the 13:00 minute mark).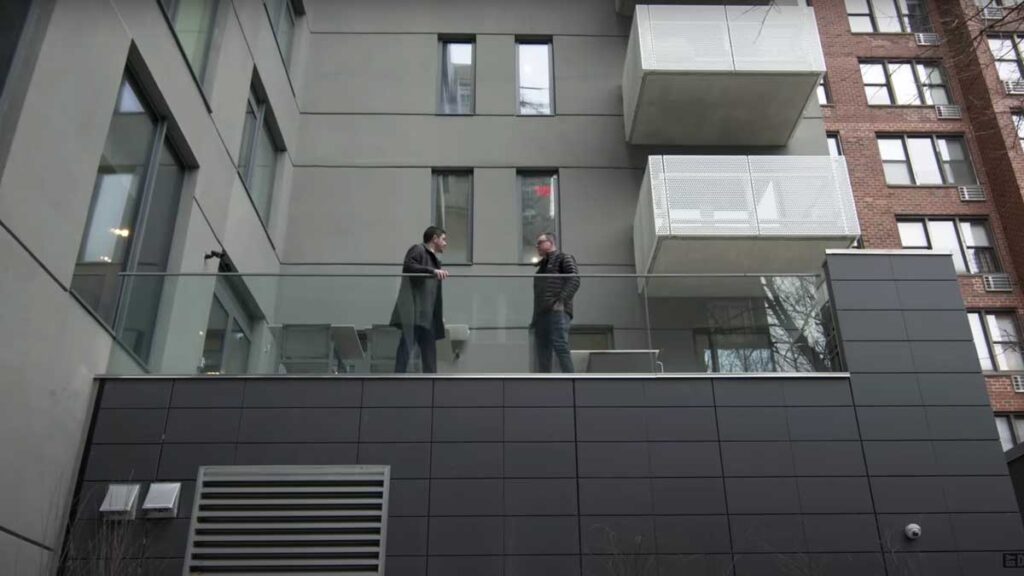 The building was also awarded the show's Season One Exterior Design Award.
Keep on reading below to learn more about Passive House, the building, and how exterior porcelain panels played a part in its story as we heard it from our conversation with the project's lead architect.
The Challenge
The building's owner wanted a Passive House-certified building from the beginning.
Why building owners want a Passive House design
"First, there's an economic benefit," says Jooyeol Oh, Arquitectonica's lead architect for the Convivium project (who is now with MG2). "If you're a long-term holder of a building, you're thinking of how much you'll pay in energy bills. Energy bills keep going up, so a Passive House design will save you money."
Another benefit is the marketing of your building. "This is one of a few high-rise buildings this client had built at this point," says Oh. "And they wanted to set the tone for a different value they're giving the market."
Passive House saves 70 to 80% on energy bills. "That means if a renter typically pays $200 a month to heat their apartment during a cold winter," explains Oh, "with a passive house building, they only pay $60." That's a distinguishing benefit an owner can highlight to the market. Oh continues, "The building owner saw the benefit of sustainable energy reduction. And as long-term holders, they wanted to be ahead of the game."
What is Passive House design?
Passive House is a design and construction standard focused on high-performing thermal envelopes. Its goal is to reduce the building's ecological footprint. Passive House building has five principles: air-tightness, ventilation, waterproofing, heating and cooling, and electrical loads.
After its construction, New York State Energy Research and Development Authority (NYSERDA) recognized the Convivium project's achievements and awarded the Buildings of Excellence Award. New York State considers Convivium a case study for future net-zero buildings.
The Solution
"It couldn't be an all-glass, curtain wall building to meet this passive house goal," Oh said. "Instead, the facade needed to be solid with mineral wool insulation and punched openings to provide a high R-value wall. We considered different materials for a rainscreen system with that in mind."
Good-looking, durable, and zero maintenance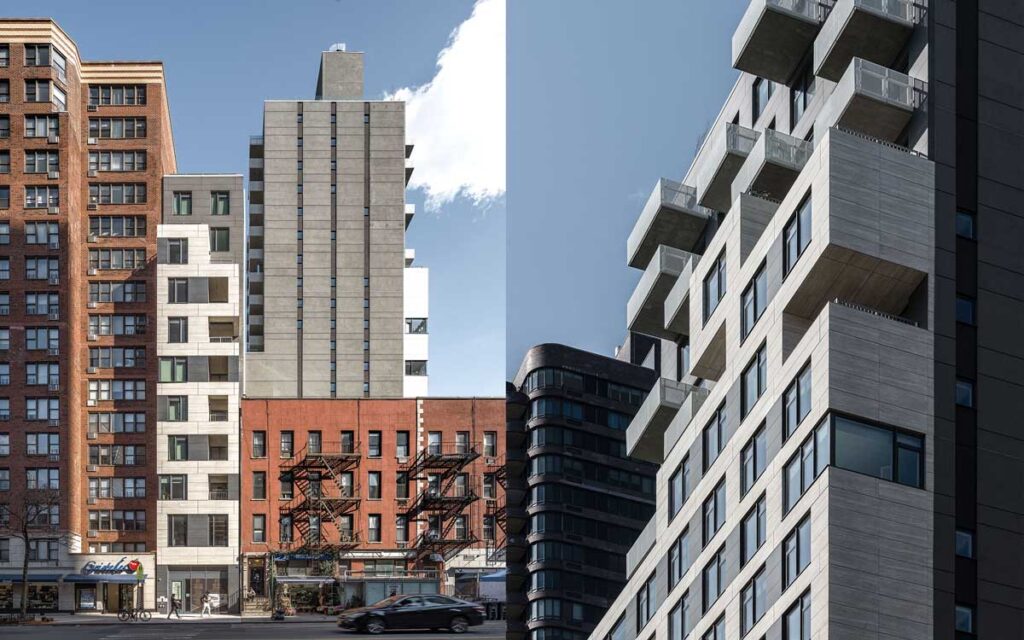 "We wanted an elevated look like natural stone. But we wanted a material that's better for the environment, long-lasting, and low maintenance."
The architect considered fiber cement board, but it lacked the elevated look they wanted. Next, they looked at metal panels, but the sizes are limited to avoid oil canning. And they'd need replacement every 10 to 15 years, so they didn't meet the durability requirement. Finally, brick was from the maintenance and longevity standpoint. But it wasn't the next generation product the architect wanted for the owner.
Ultimately, the architects chose exterior porcelain façade panels. "I'd used porcelain extensively on a previous project," Oh explains. "So, I knew its benefits and superior performance numbers. And with a Manhattan property, the client needed a durable material that stands up to impact and graffiti."
"A One-stop-shop"
Next, the architects compared several porcelain manufacturers' service and product types. "Porcelanosa was much better at providing design service," Oh says. "You also have a large showroom on 5th Avenue in New York. As an architect, it's a big deal to be able to take clients there to see the product."
Oh also mentioned he chose Porcelanosa because we provide an entire façade system. Which includes engineering, design-assist services, and the sub-structure supports. "We didn't feel your competitors offered the complete system or service like you. Your complete system is efficient — a one-stop-shop."
Custom colors & Large-format panels
"It was a travertine stone look we wanted in two tones: a light cream color and a darker, medium gray to create contrast," Oh says. The chosen colors were not in Porcelanosa's standard lines. "But you went the extra mile for us to develop those stone patterns and provide several samples until we had the ones we wanted. I appreciated the willingness to work together to come up with the product."
"I've used large-format panels before, so I knew the limits and could design to get its benefits." Oh confirmed the large format adds efficiency, but you need to find a balance so panels don't get too large to handle. "If it gets larger than three or four people can handle, you can have added labor and installation costs."
However, once everyone understands the limitations, large-format porcelain panels benefit a project. "We used large format panels in a strategic way for cost efficiency. And we used smaller, standard-size panels in other areas to stay within budget," Oh says. "The Porcelanosa team helped decide which areas were best for larger panels. And where we should use standard sizes. Spending some money here and saving money there."
The Results
Smooth facade system implementation
Porcelanosa provides shop drawings for the entire façade system. This makes for a smooth design-to-construction transition. "All I had to focus on for the shop drawings,'" says Oh, "was whether Porcelanosa showed the right sized panels and correct patterns."
Oh added, "There's no perfect job. When you get to the field, mistakes or discrepancies happen. It comes with the territory." These mistakes might include a chipped corner or out-of-plumb joint line. We've made our façade system to allow for simple adjustments to address these field conditions quickly. Oh agrees, "Once we told the installer about a discrepancy, they quickly addressed it. It was a smooth operation, and we were happy with the result."
Impacting business
"I first used porcelain in a rainscreen system in 2010 when you didn't see it much in exterior applications. And seeing how well it performed, I've recommended porcelain to many different clients."
Good experience and understanding of the porcelain system have led architects to use it in many exterior façade projects and design explorations. "It gives us a lot more design options," Oh explains. "You don't have to go to natural stone. You can even get a metal appearance." [Oh is referring to our Metal Porcelain Series.]
Porcelain's durability also boosts your design flexibility by making it easier than before to sell your design ideas to clients. "Today, we're seeing more and more exterior porcelain façades around the cities, which also helps sell the idea."
Maintenance? What maintenance?
"I go see the Convivium project in person when I'm back in New York," Oh says. "And even though the porcelain panels come down to grade, the client hasn't had to wash the cladding much —if at all —and it still looks new today. I'd heard from you that your exterior porcelain panels are 'maintenance-free.' And now I've seen it in person, and I'm more convinced it's an excellent material."
Conclusion
To meet their building project's design and energy-saving goals, Arquitectonica saw the value of working with a porcelain cladding expert who could provide design assist services, and a complete façade system. As well as someone who would work with them to get the custom colors and patterns their design vision called for.
"Porcelanosa Facades has been consistently helpful in providing exterior porcelain design services. When I have a design idea, I first think, 'What's the imagery?' Then, 'What façade material do we want?' Then I call Porcelanosa, and you're always willing to work with us and go the extra mile to make sure we get what we envisioned." – Jooyeol Oh, former Vice President, Arquitectonica
Here's a link to see more images and details about this inspiring building project.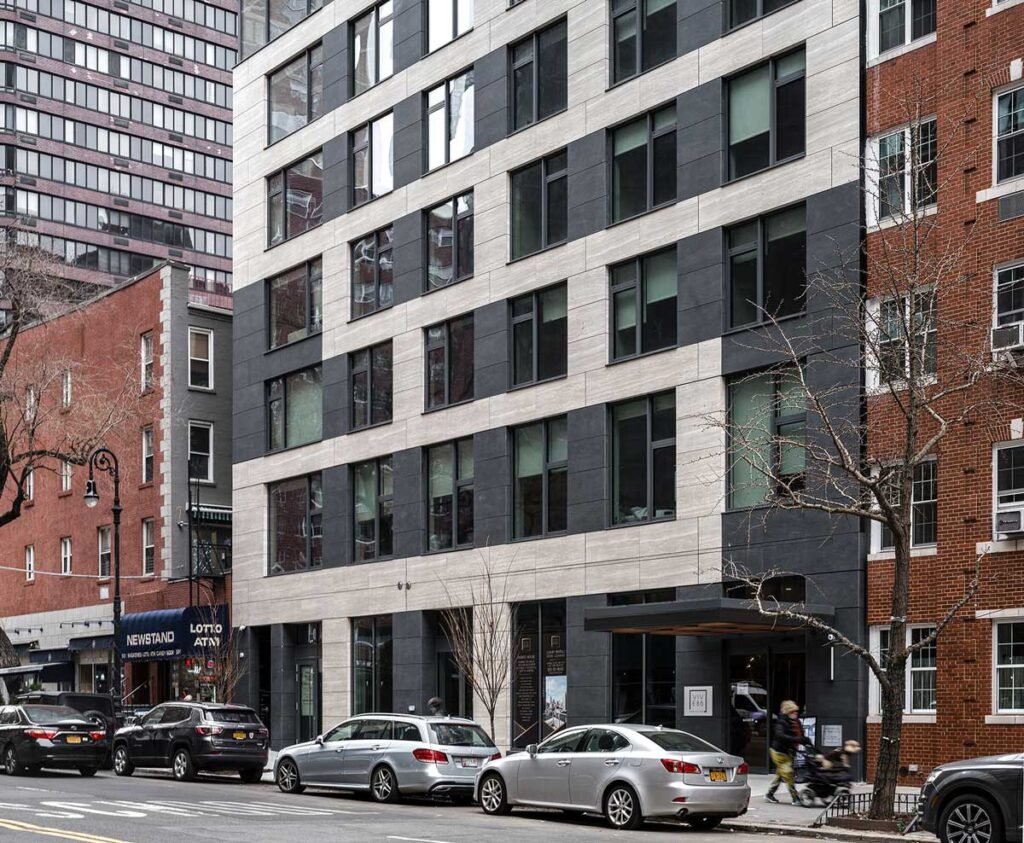 CONTACT INFORMATION To learn more about how Porcelanosa Facades can help your next project a success, contact us here on our website, or call us at 201-712-0556 (x2218).
Do you have a great project you've worked on with us that you'd like to see featured here?

Reach out and let us know…
Until next time, keep growing your garden with beautiful building facades…
Thank you,
Your Partners in Design at