This post explains how you can have an incredible-looking porcelain panel façade with three simple design strategies.
Look, we get it! Learning about pricing and material costs isn't sexy. But by learning how to reduce your façade costs with porcelain rainscreen, you'll get the best cladding material from a technical standpoint. As a result, your client gets the best value for their money, and you get to achieve your design vision.
Unfortunately, many US architects assume they can't afford porcelain panels…
"Porcelain panels from Spain? They'll be too expensive for my project."
"The system must be pricey if it's so efficient and looks so high-end."
---
"The contractor will say metal panels cost a lot less."
---
Or some other misconception.
But not you. After you read this post, you'll know how you can drop your façade package costs by $15 to $18 per square foot —again and again.
To put that into perspective, if you have 20,000 SF of façade, the costs could drop from
$740,000 to $440,000.
(That's a $300,000 savings!)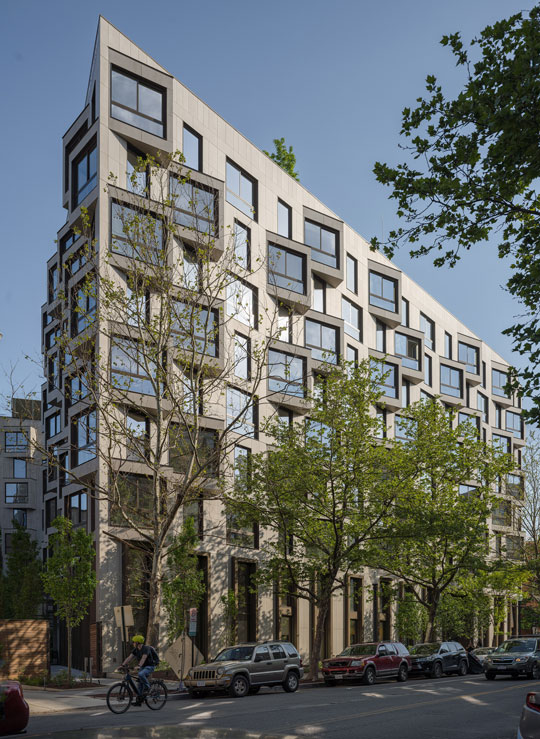 The truth about total material costs
Before we talk about where we can save money on your building façade system, let's be clear on the bigger picture.
There are six key categories of cost included in the "total material cost" of ANY panelized rain-screen façade system:
1. Raw material (sheets)
2. Fabrication
3. Substructure/Girt System
4. Waste/Yield
5. Window Returns
6. Shop Drawings
(NOTE: Unlike 9 out of 10 other panel systems, PORCELANOSA Facades' scope includes all six items. That means we can help you have a complete picture of the material costs, which gives you back some of the design control.)
Actual ranking of total material costs by system type
At the time this post is being published, here is a breakdown of the true costs we're seeing in the industry:
Material
Cost
HPL (Trespa, Fundermax) &
Fiber cement Panels (Swisspearl)
$35-39/SF
Terracotta Panels
$28-33/SF
Metal —USED TO BE $18-23/SF
NOW with changing material costs can be
$23-28/SF
Porcelanosa Façade's Pre-Set Size Approach
60% of panels are pre-set size right from a mold.
40% are fabricated in Spain, which is much cheaper.
Avoid majority of fabrication required onsite, or in US.
$22 – 27/SF
EIFS, Nichiha, HardiePlanks
Lowest Cost
See the savings points below for more information on where these costs come from, and where your design choices can help reduce them.
So, if you have a project with budget challenges, or if you'd like to offer your client a chance to spend their budget elsewhere on the project, here are three ways you can save:
Savings Point #1: Fabrication
How your chosen façade material is fabricated can make a huge difference in the costs. There are two basic approaches for how panels are fabricated:
OPTION 1
Large Sheet Approach
Intense Fabrication = $$$$
Large sheets typical of HPL or fiber-cement panels require intense fabrication.
Pro:
You have the freedom of panel sizes, with no required modules.
Con:
The fabricator must cut every façade panel. And this fabrication is done in the US, which is more expensive than overseas where the sheets are manufactured.
OPTION 2
Pre-Set Size Approach
Low Fabrication = Massive cost saving opportunity
Our Pre-Set Size Approach with pre-set size molds/panels (6'x2', 4'x4', 4'x2', 5'x1.5')
Pro:
This saves $15-18/SF in fabrication if you make use of the pre-set size modules we've established.
Con:
You design around pre-set sizes, similar to other modular materials, like brick.
Savings Point #2: Waste-to-Yield
Regardless of the chosen fabrication path, many architects are still unaware of (or choose to ignore) the usage of material.
Waste is the single most important cost driver and it's determined by your design. Regardless of whether we're using a specific mold, a standard size, or if it's a slab size. The rule-of-thumb for determining waste is taking the raw material into account.
PORCELANOSA's in-house Technical Team of architects and engineers can help you minimize waste with the panel sizing and detailing of your project. See our contact information below and reach out.
Savings Point #3: Window Returns
Your design and envelope details can have many ways to address the fenestrations of your building. All of them are great looks but can have a major cost impact on your design.
For rainscreen designs, your lowest cost impact is keeping your windows flush with your panels.
The next step up would be to inset the window and use our pre-finished cladding framing to close the cavity at the windows. We have a couple options to use: a T- profile, or a double-L profile.
And, finally, the highest cost option is to use porcelain returns to close the cavity at your windows. Again, there are a couple of options here: Mitered corner (most expensive) or straight corners (Second most expensive).
If you choose to go with our exterior façade panels, all these options come from us. Which is one less coordination headache for you and the contractor.
We'd love to review the options with you to see which makes the most sense for your design.
Bonus Savings Point: Installation Consideration
Outside of the material costs, of course there is the installation cost to install your chosen façade system. That's one more area where your design choices can have an impact on your façade budget.
Number of panels
This is one of the most important drivers for installation costs. If you use large format panels, the installation cost can be lower. Here's how:
Let's say your contractor estimates a 10-minute installation time for each panel.
And we use a basic façade area of 8-foot by 4-foot to estimate install time.
If we have 4×2 panels, we'd estimate 4 panels x 10 minutes/panel = 40 minutes for our 4'x8' area.
With smaller 2×1 panels, we'd estimate 16 panels x 10 minutes/panel = 160 minutes.
Then, if we apply that estimate across the entire façade area, you can see that the smaller panels would end up being estimated at 4 times the installation cost than the 4×2 panels.
Of course, there are other factors that will impact the installation costs, but those may be the subject for a future post.
Next steps for you
If you've got a project coming up and want to see if exterior porcelain panels are the right choice for your façade, let us know.
CONTACT INFORMATION
To learn more about how Porcelanosa Facades can help your next project a success, contact us here on our website, or call us at 201-712-0556 (x2218).