In our last two newsletters, you saw the first seven essential questions you need to ask and answer while you're choosing the cladding materials for your project's appearance, and to make sure it fits within your client's budget:
To help your design decision-making process, we've developed a Design Guide to give you a step-by-step system. To help you design the most cost-effective open-joint porcelain façade for your building projects.
As a quick overview, the ten steps include the following.
The Cladding
What are your cladding panel sizes?
Color-body or through-body porcelain?
What color and finish does your design need?
Do you want exposed or concealed fasteners?
The Substructure
What are your building's design pressures?
What's your build-up requirement?
What's the pattern for your panels?
Your Application & Use
What's your waste-to-yield factor?
Do you want field-cut panels or pre-cut from the factory?
Does your design require window returns?
In today's newsletter, let's learn the final three things you need to consider when you're choosing the perfect look for your next building façade…
The Your Application & Use
These last steps will determine how you detail your façade system to minimize waste and improve the final quality and look of your porcelain cladding.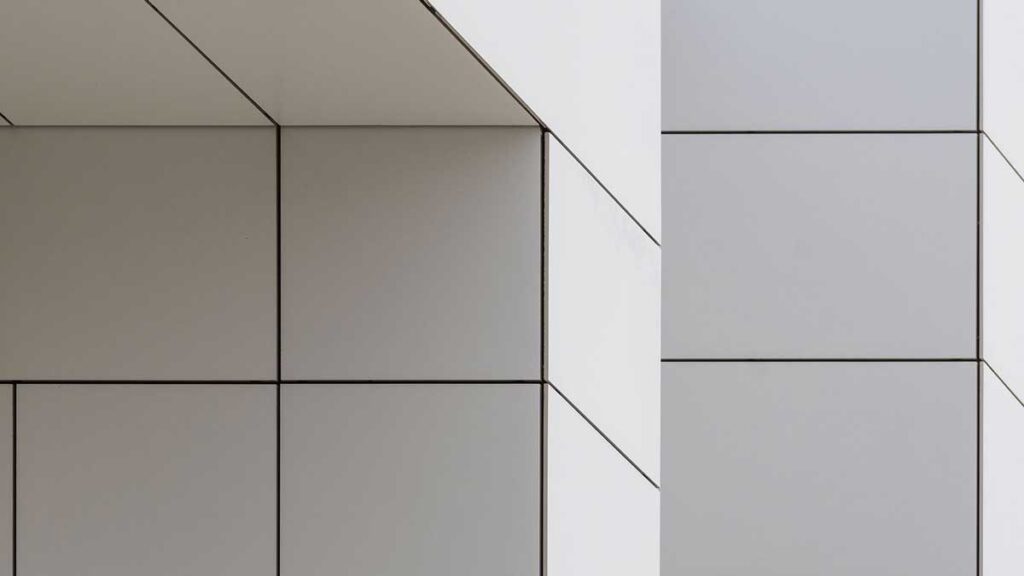 8) What is your waste-to-yield factor?
Are we making good use of the cladding material? Waste is the single most important cost driver and it's determined by the design. Regardless of whether we're using a specific mold, a standard size, or if it's a slab size. The rule-of-thumb for determining waste is taking the raw material into account.

If you reach out, we can help you minimize waste with the panel sizing and detailing of your project.
If you reach out, we can help you minimize waste with the panel sizing and detailing of your project.
High Waste; Cost Impact: $$$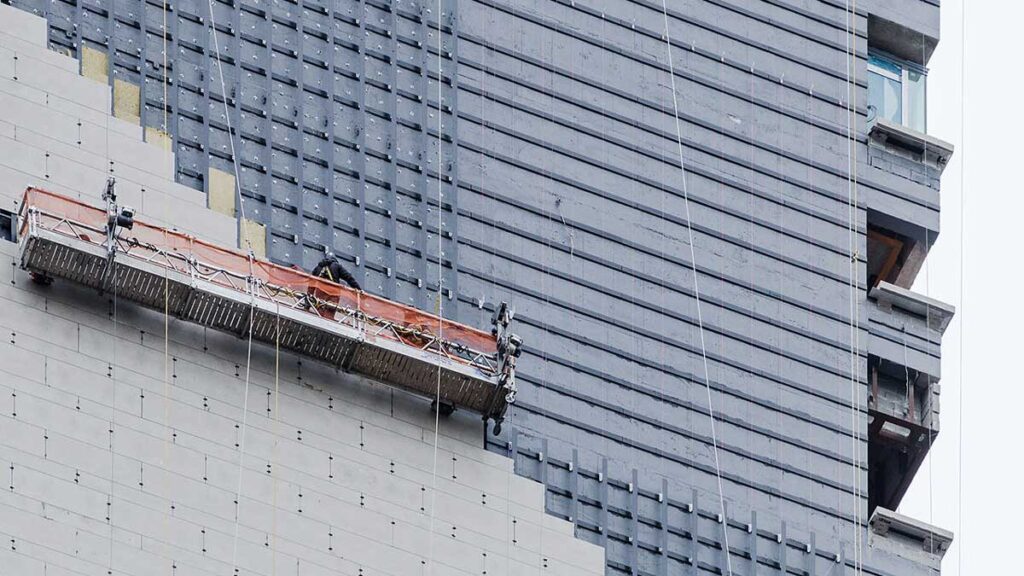 9) Do you want field-cut panels or pre-cut from the factory?

Field cutting has a cost impact based on additional labor, weather conditions & scaffolding. Most cladding manufacturers factory cut 100% of the material. This requires field measurements which can lead to production and schedule delays.

Porcelanosa doesn't require field measurements. We do shop drawings from CAD files and pre-cut 80 – 90% of your panels. That's the sweet spot. We leave the other 10 – 20% of the panels to be cut and adjusted in the field.
This avoids the delays of waiting for construction to reach the point of field measuring and then production and shipping of the new panels. Plus, there's always the chance those pre-cut panels don't fit or are too short when they arrive onsite. Which leads to additional lead times.
We feel your best option is to pre-cut as much as possible but leave that flexibility of the system to be addressed in the field.
Pre-cut from factory; Cost Impact: $
Field-cutting; Cost Impact: $$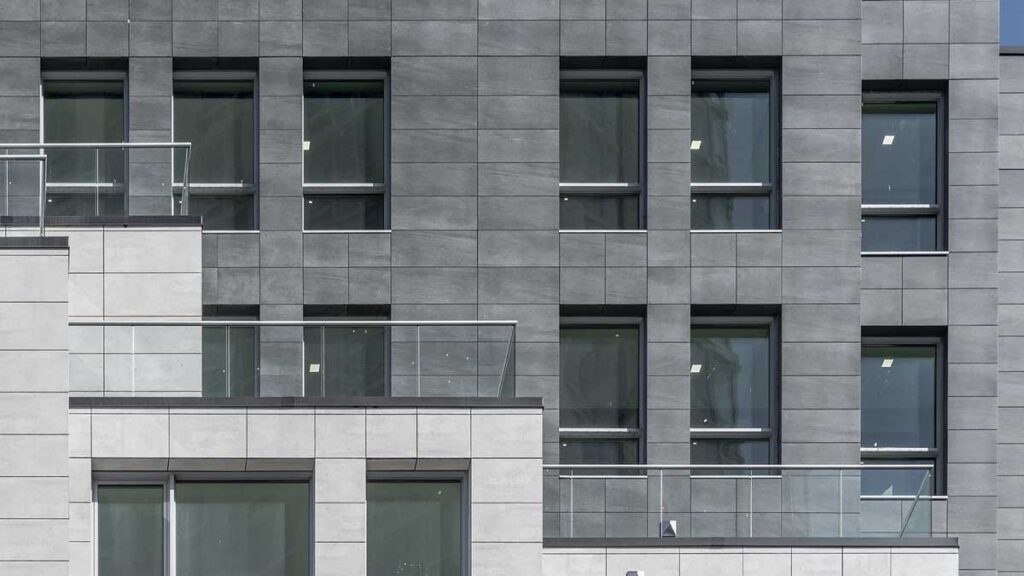 10) Does your design require window returns?

Your design and envelope details can have many ways to address the fenestrations of your building. All of them are great looks but can have a cost impact on your design.

To help you decide, here are several options to consider:
Your windows can be flush with the porcelain panels; Cost Impact: $
You can inset the window and use our pre-finished cladding framing to close the cavity at the windows; Cost impact: $$
The windows can be inset with an aluminum trim framing the opening; Cost Impact: $$
Or you can return the porcelain panels to frame the inset windows; Cost Impact: $$$
So, there you have it.
Ten critical questions you can use as your design guide to help you achieve your design vision and make it possible.
Are you ready to get started on your next exterior porcelain cladding project? Reach out, and we can help you find the cladding system to help you stay on budget and keep your design vision intact.
Until next time, keep growing your garden with beautiful building facades…
Thank you,
Your Partners in Design at

1) Sign up for our Virtual Online Lunch & Learn CEU presentation.
Sign up here for our presentation called, "Ventilated Façade System for Buildings."
You'll earn 1 AIA HSW CEU, and you'll learn more about when & how to use a ventilated façade, as well as the advantages you'll get using a ventilated façade over using other cladding systems.
SIGN UP TODAY!
2) Contact us for a free, no-obligation project consultation.
Go here to schedule a no-obligation call. Get to know us and share your vision for your project. If this project isn't a great fit, we'll just let each other know. And part as new BFFs looking forward to the next chance to work together.
SIGN UP Or you can always give us a call at 201-712-0556 (x2218)!
3) See if your project is a good fit for our Design Assist service.
Check out our two-page Design Assist Services description here to help understand a bit more about this awesome way we can work together.
The TL;DR version: If your project meets just two simple requirements, our complimentary Design Assist service will help ensure your façade design's success, while saving your design team time, money, and headaches.
Check it out today!