To be clear, we're not talking about ceramic tile. Or interior porcelain tile.

We're talking about technical porcelain. We fire your exterior porcelain cladding panels so they absorb less than 0.1% of water. Making them virtually impervious to moisture.
Compare that to industry standards for other tiles (water absorption rates):
Porcelain: ≤ 0.5% (which is great)
Ceramic: between 0.5% – 3.0%
Let's look at it from the other direction: Glass has a water absorption rate of 0%. Our technical porcelain is at 0.1%.
That means glass is 100% waterproof, and our porcelain cladding panels are 99.99% impervious. Not too shabby, right?
Here's an interesting fact worth knowing: It only takes an additional 25 degrees Celsius to go from ceramic to porcelain. With that little bit of extra heat, the "vitrification" process occurs. Vitrifying means particles begin fusing to fill more of the remaining pores in the material – leading to impervious porcelain qualities.
Here's what these comparisons and percentages mean… You and your client don't have to worry about thermal expansion & contraction, freeze-thaw, or efflorescence issues. And graffiti comes off like it's nothing. Our porcelain cladding system is ideal for all climate zones your projects require.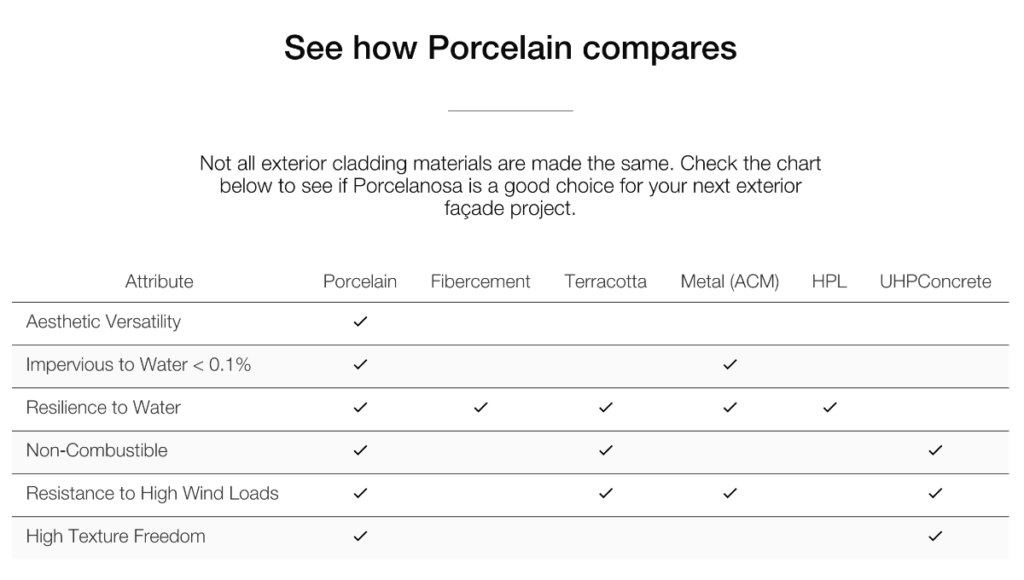 See how your other favorite exterior cladding materials stack up against porcelain cladding panels here. Just scroll down to the chart at the bottom of the website page.
Until next time, keep growing your garden with beautiful building facades…
Thank you,
Your Partners in Design at

1) Sign up for our Virtual Online Lunch & Learn CEU presentation.
Sign up here for our presentation called, "Ventilated Façade System for Buildings."
You'll earn 1 AIA HSW CEU, and you'll learn more about when & how to use a ventilated façade, as well as the advantages you'll get using a ventilated façade over using other cladding systems.
SIGN UP TODAY!
2) Contact us for a free, no-obligation project consultation.
Go here to schedule a no-obligation call. Get to know us and share your vision for your project. If this project isn't a great fit, we'll just let each other know. And part as new BFFs looking forward to the next chance to work together.
SIGN UP Or you can always give us a call at 201-712-0556 (x2218)!
3) See if your project is a good fit for our Design Assist service.
Check out our two-page Design Assist Services description here to help understand a bit more about this awesome way we can work together.
The TL;DR version: If your project meets just two simple requirements, our complimentary Design Assist service will help ensure your façade design's success, while saving your design team time, money, and headaches.
Check it out today!