Location: North Stamford, Connecticut
Architect: Crown Architecture and Consulting
Building Typologies: Education; Renovation
Year Constructed: 2016
Porcelain Cladding Used: 2,500 SF
Colors: XLight Concrete Black (Concrete Series)
Here's a link to see more images and details about this renovation project to this school of creative learning once attended by Jim Henson's children.
Here's what the architect had to say about this project's challenges, choosing exterior porcelain cladding, and working with our team:
"The Mead School, contemplating a major renovation and addition, engaged Crown Architecture to design a new building to be the face of their facility, which naturally had to make an architectural statement.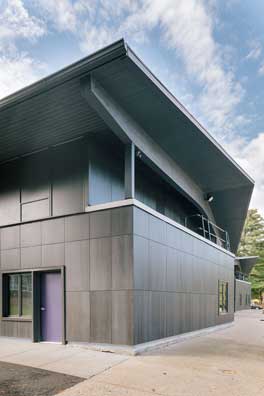 Crown quickly realized the new contemporary structure did not blend well with the existing mid-century modern buildings. The solution was to mask the existing façade on the aging school. And for that, Crown turned to Porcelanosa Facades.
The product had to overcome a number of challenges. In addition to the aesthetic transition and need to function on both the existing and new buildings, the facade system had to seamlessly interact with an abutting vented rain screen where depth constraints posed difficult fenestration conditions.
The Porcelanosa team's intricate knowledge of their products made the design process flawless. And their expertise and willingness to go above and beyond in field coordination allowed for an easy installation despite challenging existing conditions."

Michael Santora and Matthew Lucciola
Crown Architecture and Consulting
New York, NY
Do you have a great project you've worked on with us that you'd like to see featured here?

Hit reply and let us know…
Until next time, keep growing your garden with beautiful building facades…
Thank you,
Your Partners in Design at

1) Sign up for our Virtual Online Lunch & Learn CEU presentation.
Sign up here for our presentation called, "Ventilated Façade System for Buildings."
You'll earn 1 AIA HSW CEU, and you'll learn more about when & how to use a ventilated façade, as well as the advantages you'll get using a ventilated façade over using other cladding systems.
SIGN UP TODAY!
2) Contact us for a free, no-obligation project consultation.
Go here to schedule a no-obligation call. Get to know us and share your vision for your project. If this project isn't a great fit, we'll just let each other know. And part as new BFFs looking forward to the next chance to work together.
SIGN UP Or you can always give us a call at 201-712-0556 (x2218)!
3) See if your project is a good fit for our Design Assist service.
Check out our two-page Design Assist Services description here to help understand a bit more about this awesome way we can work together.
The TL;DR version: If your project meets just two simple requirements, our complimentary Design Assist service will help ensure your façade design's success, while saving your design team time, money, and headaches.
Check it out today!