Location: Queens, NY
Architect: Stephen B. Jacobs Group
Building Typologies: Multi-Family; New Construction; High-Rise
Year Constructed: 2018
Porcelain Cladding Used: 147,000 SF
Colors: Extreme White (Technic Porcelain Series) and Cubica Black (Decorative Porcelain Series)
Here's what the architect had to say about this project's challenges, choosing exterior porcelain cladding, and working with our team:
"We considered several different exterior walls for the design of our 43-story tower [project]. We were initially thinking of a glass curtainwall, but we had incredible noise levels to deal with from the elevated subway tracks surrounding the site. It became obvious that a glass curtainwall was going to be very complicated and not very cost effective.
We moved toward more of a punched opening façade — more mass and less glass. We considered brick, but we didn't want to do brick on a 40-story tower. Next, we considered precast concrete, but with our tight site location, precast wasn't very feasible to hoist the panels into place.
It just happened around this time when we were working through our design, Porcelanosa Facades visited our office to present their products. We'd never considered using porcelain on a building's exterior wall. Their presentation was so good, and their products were so attractive, I loved the idea and started thinking about it.
They had one project going on in our city at that time, but no one had used Porcelanosa's system at such heights as our tower project. Regardless, we knew that this was the product we wanted to use for this project. We're always trying to push the envelope in our practice, and I thought, 'Why not! Let's look into it.'
I also had the opportunity to visit their factory in Spain and that blew me away. From there it was a no-brainer. Doing something we hadn't done before, I wanted to make sure it was going to turn out the way we wanted. And the more we got to know each other, the more comfortable we were working together…
…I consider ALTA LIC one of our most successful projects. And seeing it now, among all the new glass towers in that area, makes it stand out even more because it's different.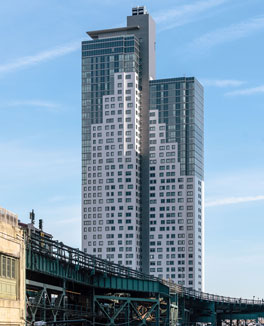 The tile colors we chose worked out really well – Extreme White and a textured darker tile called Cubica Silver, which catches the light differently depending on the time of the day. Its location is right on axis with the Queensboro Bridge, so you can't miss it. It stands on its own and offers 360-degree views. The way we designed it with this combination between the porcelain tiles and punched openings on the lower floors, and then becoming more transparent with the window wall on the upper floors… It's a very striking building…"
Isaac-Daniel Astrahan, Aia, LEED AP, Principal
Stephen B. Jacobs Group, New York, NY
Do you have a great project you've worked on with us that you'd like to see featured here?

Hit reply and let us know…
Until next time, keep growing your garden with beautiful building facades…
Thank you,
Your Partners in Design at

1) Sign up for our Virtual Online Lunch & Learn CEU presentation.
Sign up here for our presentation called, "Ventilated Façade System for Buildings."
You'll earn 1 AIA HSW CEU, and you'll learn more about when & how to use a ventilated façade, as well as the advantages you'll get using a ventilated façade over using other cladding systems.
SIGN UP TODAY!
2) Contact us for a free, no-obligation project consultation.
Go here to schedule a no-obligation call. Get to know us and share your vision for your project. If this project isn't a great fit, we'll just let each other know. And part as new BFFs looking forward to the next chance to work together.
SIGN UP Or you can always give us a call at 201-712-0556 (x2218)!
3) See if your project is a good fit for our Design Assist service.
Check out our two-page Design Assist Services description here to help understand a bit more about this awesome way we can work together.
The TL;DR version: If your project meets just two simple requirements, our complimentary Design Assist service will help ensure your façade design's success, while saving your design team time, money, and headaches.
Check it out today!