Location: Boston, MA
Architect: RODE Architects
Building Typologies: Multi-Family, Mixed-Use, New Build
Year Constructed: 2020
Porcelain Cladding Used: 8,300 SF
Colors: Max Grey Nature & Lappato (Stone Porcelain Series)
For this multi-family, mixed-use project, RODE Architects looked for something different from what everyone else is doing for their building facades around the city.
Here's what the architect had to say about this project's challenges, choosing exterior porcelain cladding, and working with our team:
"We'd never considered using porcelain panels in an exterior application… I feel like it used to be a more European application. So, lack of knowledge was the main reason we hadn't considered it before [this project].

…the main concern was understanding the costs associated with it.

… We got the project approved with the porcelain cladding. Then the client sold the project approvals to a different client. The new client's first step was to do a project cost assessment and value-engineering of the project. The unknown costs associated with an unfamiliar system like porcelain cladding were a concern to the new client. So, as a preemptive measure, we reduced the scope of the porcelain cladding from its original design.
Another challenge regarding using porcelain was that we build with wood in New England, leading to the concern of how square and plumb the wood framing of the building would be. We didn't know if the porcelain cladding system would need an exactness that we don't see in wood frame construction, especially on this size of a building. Most of the project examples Porcelanosa showed us were steel stud framing, which has less movement than this project, which is five stories of wood over a one-story steel podium.

It turns out our concerns about using porcelain with wood were unfounded. The building did end up an inch or so out of plumb, but Porcelanosa was able to incorporate some deeper members or extension pieces to manage that variation.

…The contractor initially had concerns because porcelain cladding systems were new to them. But, after the install was complete, they too were very impressed by the system and the way it went in. There was a lot of upfront concern, but as you get through the process, everyone notices, 'It works out really well.'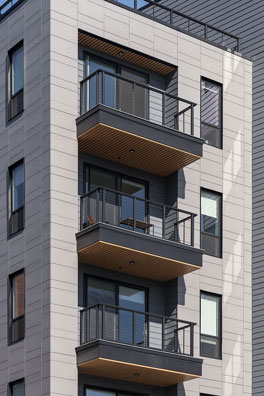 The tile colors we chose worked out really well – Extreme White and a textured …We were looking for a bold, modern material that was different. We wanted the façade to be contemporary and different from other projects around New England. We achieved that goal through the use and quality of the porcelain cladding joints. The system's flexibility ends up with a clean look that is worthy of a museum. But the material's scale and patterning can still be consistent with a residential project.

… we're seeing a huge building boom in the city of Boston, but there is a lot of "same-same" materials and underwhelming design elements. The porcelain cladding brings a crisp, contemporary aesthetic to your design…"darker tile called Cubica Silver, which catches the light differently depending on the time of the day. Its location is right on axis with the Queensboro Bridge, so you can't miss it. It stands on its own and offers 360-degree views. The way we designed it with this combination between the porcelain tiles and punched openings on the lower floors, and then becoming more transparent with the window wall on the upper floors… It's a very striking building…"
Eric Robinson, AIA, LEED-AP, Principal & Co-Founder
RODE Architects, Boston, MA
Do you have a great project you've worked on with us that you'd like to see featured here?

Hit reply and let us know…
Until next time, keep growing your garden with beautiful building facades…
Thank you,
Your Partners in Design at

1) Sign up for our Virtual Online Lunch & Learn CEU presentation.
Sign up here for our presentation called, "Ventilated Façade System for Buildings."
You'll earn 1 AIA HSW CEU, and you'll learn more about when & how to use a ventilated façade, as well as the advantages you'll get using a ventilated façade over using other cladding systems.
SIGN UP TODAY!
2) Contact us for a free, no-obligation project consultation.
Go here to schedule a no-obligation call. Get to know us and share your vision for your project. If this project isn't a great fit, we'll just let each other know. And part as new BFFs looking forward to the next chance to work together.
SIGN UP Or you can always give us a call at 201-712-0556 (x2218)!
3) See if your project is a good fit for our Design Assist service.
Check out our two-page Design Assist Services description here to help understand a bit more about this awesome way we can work together.
The TL;DR version: If your project meets just two simple requirements, our complimentary Design Assist service will help ensure your façade design's success, while saving your design team time, money, and headaches.
Check it out today!