The Hursey Center, University of Hartford
Location: Hartford, Connecticut
Architect: Payette
Building Typologies: New Build; Educational
Year Constructed: 2020
Building Size: 59,000 SF, 3 stories
Porcelain Cladding Used: 14,200 SF
Colors:
Stuc Grey (polished)
Background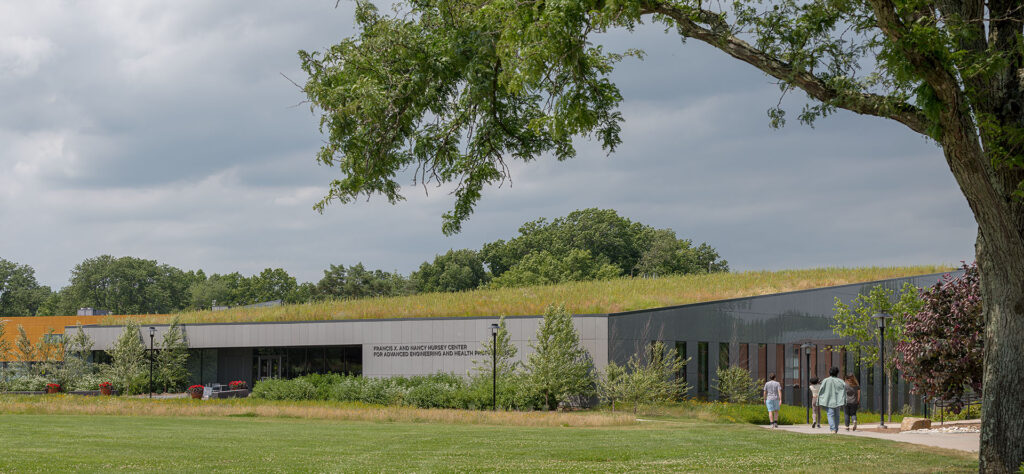 The University of Hartford's 350-acre campus was established in 1957. The university's Francis X. and Nancy Hursey Center for Advanced Engineering and Health Professions opened in the fall semester of 2021. The Hursey Center is located at the heart of the campus's Academic Green and houses space for engineering and health science programs.
Here's a link to see more images and details about this building project.
Keep on reading below to learn more about the building, and how exterior porcelain panels played a part in its story as we heard it from our conversation with the project's design principal.
The Challenge
"It's an unusual design challenge from several points of view," says Peter Vieira, FAIA, design principal with Payette. 
"First, it mixes two academic disciplines we don't often see combined in a single new building —engineering and health sciences." The university wanted spaces where other students could experience the exciting things happening in these two fields of study.
"The vision," Vieira continues, "was to take the most visually engaging pieces of those academic programs, bring them together, and make them very transparent to the campus to be experienced."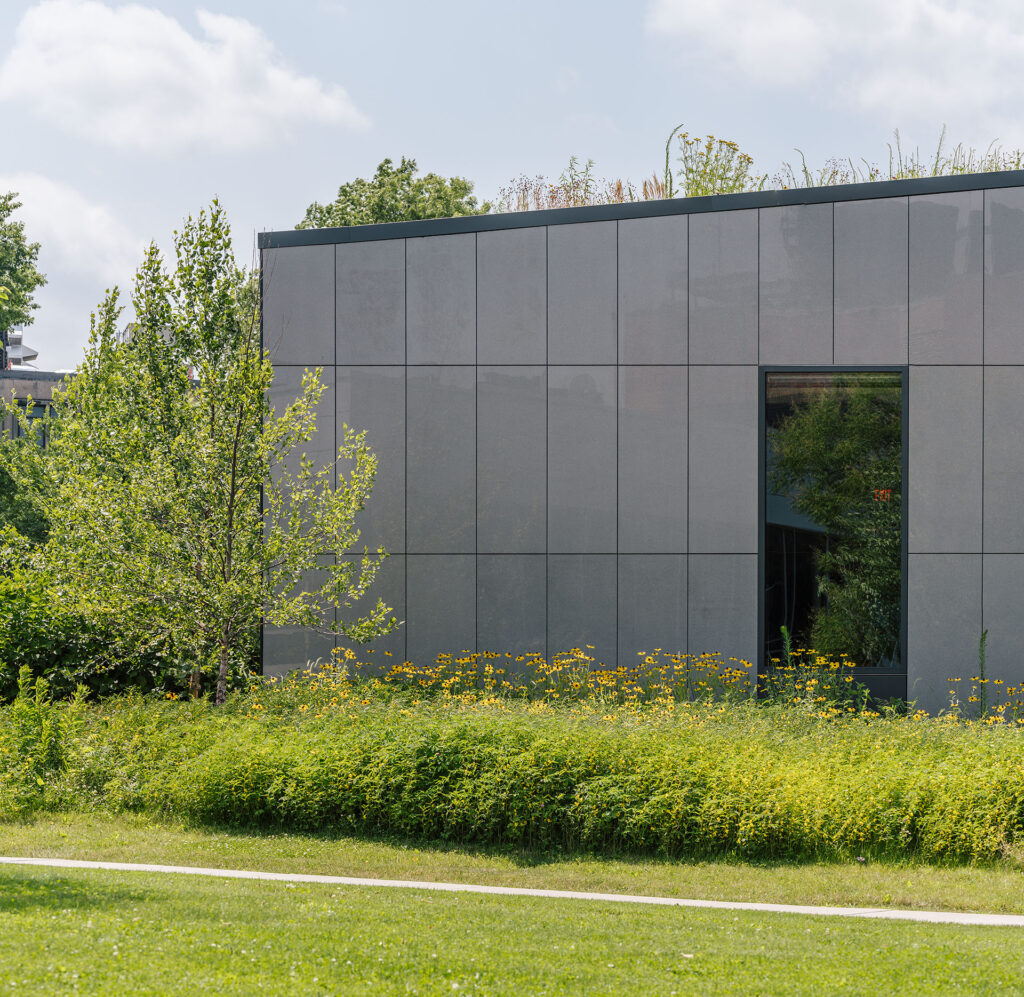 The second challenge was the building's physical location.
The campus is about 15 buildings arranged informally around a large, open green space with a few "missing teeth."
"At Payette," Vieira says, "we look for places to insert buildings —to work with the campus' grain." That led to combining two ideas, the idea of a 'center' to showcase these two disciplines, with a physical 'center' of taking a privileged physical location on the campus — the geographic center of this sacred green. "That set up the architectural challenge," Viera explains. "How to take this privileged location and make something worthy of that place, without making an iconic grand statement?"
How do you create an architecture sensitive to the campus' overall experience without upsetting a delicate balance of buildings around this green space?
The Solution: Discovering Reflective Porcelain Panels
The building is a simple trapezoid with an extensive, inclined roof.
To camouflage its size and minimize disruption to the campus path network, Payette's design sets the 60,000 SF building into the hillside. The center's large sloping roof is completely planted, to suggest a continuation of the Academic Green. "For the facade, we didn't need a lot of exterior windows for many of these spaces," Viera says. "Nor do we want to have a lot of windows for energy conservation and energy efficiency." So, Payette knew they'd have a maximum of 35 – 40% transparency on the longer east and west-facing sides.
The narrower north and south ends were the logical building entrances, so they are mostly glass.
Material Considerations
Payette had used high-performance concrete and fiber cement products on previous rainscreen projects.
"In this case, however," explains Veira, "the building needed to reflect the surroundings to deflect attention away from itself." So, a reflective surface on the building's opaque walls was an early objective. One option was back painted glass, but it was too expensive. The reflective product options in the budget was a short list.
"There was a high gloss, panelized, fiber cement product," says Vieira, "that was closest to what we wanted. But the only color options were white or black."
Discovering exterior porcelain
"Our team stumbled across a big Stuc panel sample sitting on a shelf in Porcelanosa's showroom at the Boston Design Center," Vieira says.
Payette hadn't worked with Porcelanosa before, but several things struck them about the reflective stone-like surface. "The Stuc Grey panel had bits of red and a slight buff within its matrix," Vieira continues. "And these are the campus' predominant materials: brick, concrete, and stone. It was almost like a microcosm. If you enlarged it and looked at it, you'd see all the predominant colors of the surrounding building. Yet, by being mainly gray, it was different from any of the others at the same time.
"It was both sympathetic & relatable, and yet different which fit the project's overall theme."
Fast-track project schedule
Due to the client's timelines, the road from identifying the product to getting client approval happened over weeks, rather than months.
"Cesar and his team at Porcelanosa were incredibly helpful in getting us large samples in different colors," says Vieira. "When we brought these materials to the site, the client was on board with the notion of a reflective building, and the grey panel stood out as the right material for that campus as it integrated itself with the other materials.
"It was a relatively direct path to approval."
The Results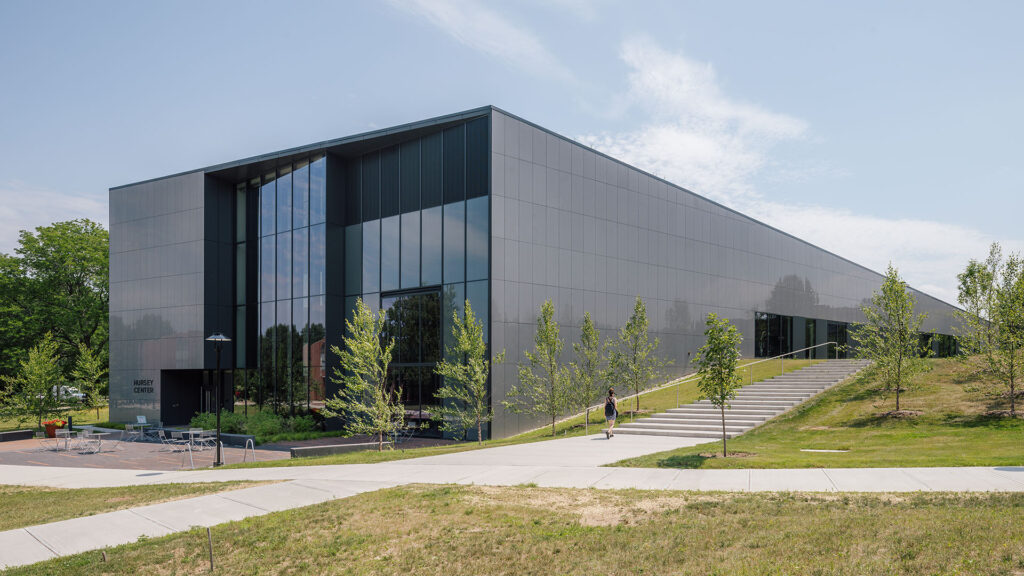 "A virtually seamless installation"
"We work with a lot of different panel manufacturers," says Vieira. "This was smoother than any of them I can recall. Great shop drawings and excellent technical support during the shop drawing process—a virtually seamless installation, which is seldom the case."
Vieira added, "We wanted to paint the exposed edges of the panels. For aesthetic reasons, we wanted to see the actual thickness of the panel along the edge of the field in some locations. The Porcelanosa team helped us find a product to seal those edges that worked with our color scheme."
Porcelanosa went the extra mile
"During design, we needed several larger 4 x 4 samples to review on site," says Vieira.
"We noticed the reflection wasn't a consistent mirror-like finish across one or two panels. We ultimately determined the warpage was native to panels at their full size that happens in the manufacturing process. And if you have a full 4×8 panel, you'd see some optical distortion and deformation in the reflectivity along the edges, if you're looking very carefully at it.
"So, we asked if Porcelanosa could cut our panel out of the center of the native panel rather than biasing it to an edge. So, they had to make four cuts to get it out of the center of the panel. They agreed and the panels all came in perfect. We didn't see this issue in any of the installed panels. Porcelanosa went the extra mile in helping us figure this problem out and addressing it through the fabrication process.
"We fully expected to hear, 'If we have to cut every panel four times, that's extra time, extra labor, extra cost.' So, for Porcelanosa to say, 'We can do that, no problem,' and do it without a single unacceptable panel was remarkable."
No delivery issues —even during the global pandemic
The project bid in March 2020, right as the world was shutting down due to COVID-19.
"We needed the product on-site in November 2020," Vieira recalls. "So, coming from Spain, we were expecting the bad news that this product couldn't be delivered, and we'd have to find something else. But there wasn't a day's delay —it came exactly when it was supposed to. So, all the angst was a non-event, which we were just staggered by. It couldn't have gone better."
Conclusion
"With other façade materials, we typically need to make it up as we go. Because it hasn't been thought through and there are too many loose ends that don't pertain to all the façade's components. However, Porcelanosa has a complete façade system, which has been thoroughly thought through, so it goes up with relative ease by local installers. And the panel quality is so high the results are exactly what we hoped they'd be.
"Porcelanosa's process was way more seamless than other panel manufacturers we work with. On every other project I can remember, there's been some significant issue we've had to work through to get the result we wanted. In this one unique case, we didn't. And that, to me, is astounding." – Peter Vieira, Design Principal, Payette
Here's a link to see more images and details about this inspiring building project.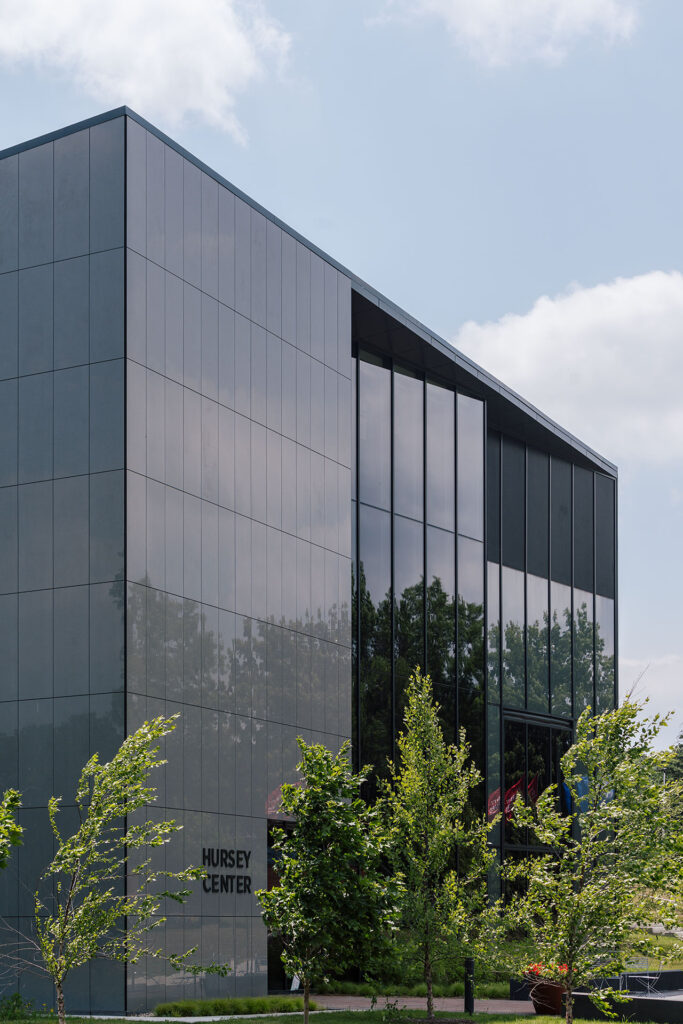 Next steps for you
If you've got a project coming up and want to see if exterior porcelain panels are the right choice for your façade, let us know.
CONTACT INFORMATION
To learn more about how Porcelanosa Facades can help your next project a success, contact us here on our website, or call us at 201-712-0556 (x2218).
Do you have a great project you've worked on with us that you'd like to see featured here?